PUBLICATIONS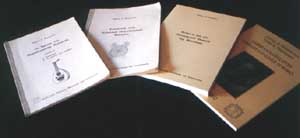 Mavroides, Marios, "Modes of Traditional Music", IEMA, Athens, Greece, 1992
Mavroides, Marios, "Introduction to Greek traditional music", IEMA, Athens, Greece, 1992
Xanthoudakis, Charis, "Texts for a functional music theory", IEMA, Athens, Greece, 1992
Ulrich, Michels, Atlas zur Musik, Vols I&II, translation and editing by IEMA, Filippos Nakas, Athens, Greece, 1996
Papaioannou, Yannis, Complete catalogue of works, (Greek & English) IEMA, Athens, Greece, 1990.
Music Publication System
IEMA was the first organization to use advanced digital applications for its music and score publication activities. The software used ranges from Finale, Sibelius, Encore, Mosaic for score processing, QuarkXpress, PageMaker, MS Office for text editing and Adobe Illustrator, Freehand and Photoshop for DTP. In addition, the Institute has developed special software packages for processing Byzantines scores already used in its projects.
Productions
The following books have already been published:
More than 200 music works of Greek composers. (M. Hatzidakis, M. Adamis, Th. Mikroutsikos, Ch. Xanthoudakis, Ch. Vrondos, J. Markopoulos, G. Kouroupos, Th. Antoniou, D. Terzakis etc)
10 music books (Ch. Xanthoudakis, M. Grigoriou, J.A. Papaioannou, M. Mavroidis, P. Kavakopoulos, Music Atlas)
Various educational reports (i.e. seminars held in IEMA) and the educational material of "MELINA - Education and Culture"
Work lists of 25 Greek composers.